Pittsburgh's Low-Barrier, Trauma-Informed Approach to Serving Those Experiencing Homelessness
Introducing the First-of-Its-Kind Second Avenue Commons
+

See All Viewpoints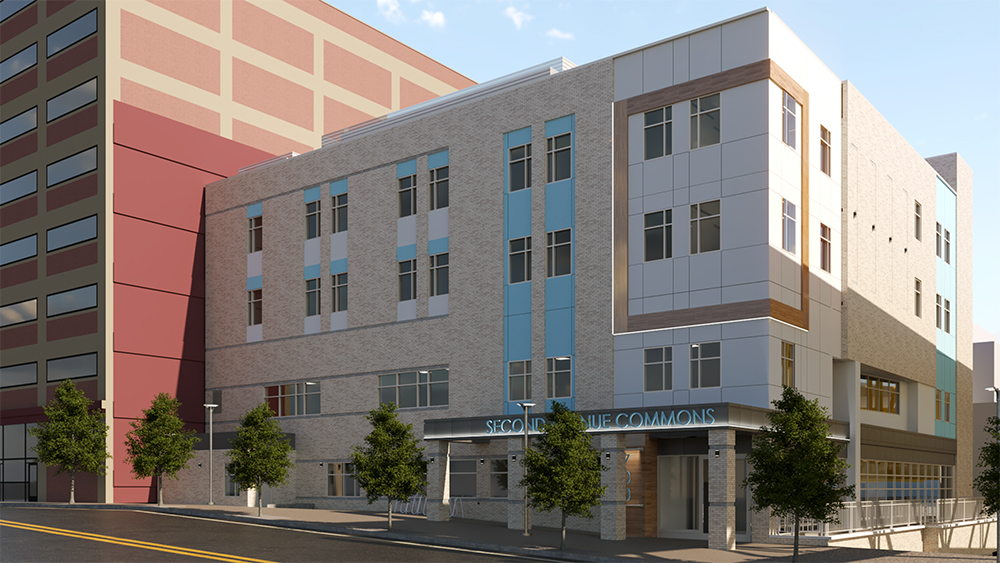 Exterior Rendering - Second Avenue Commons
On September 29, 2022, the ribbon cutting will be held on a new five-story, 42,000 SF shelter for those experiencing homelessness in the Pittsburgh region that offers a low-barrier approach to better serve the community. Project Cares, as Second Avenue Commons was called in the planning stages, invites and encourages access among those experiencing homelessness. The new shelter offers sanctuary, support, and resources to enable and empower individuals to greater self-sufficiency on their path to a safe and secure quality of life. With rising rent costs, a shortage of available housing, the eviction moratorium and emergency rental assistance programs expiring, and a sharp rise in mental health crises due to the pandemic, Second Avenue Commons, located on Second Avenue adjacent to the Liberty Bridge, hopes to alleviate some of the strain. Yet, it was not the pandemic that initially motivated the community to take this action towards creating opportunities for those most vulnerable among us. Planning began in late 2019 and continued through 2020, despite the challenges presented by the pandemic.
In the initial phase of visioning, programming, and concept design during the fall of 2019, Nick Doichev, DLA+ Principal-in-Charge of the project, traveled to several shelters across the country that offered a low-barrier, trauma-informed approach. When he returned, the DLA+ design team including Jennifer Pavlik, Principal and Interior Design Lead, followed up his field trip by researching a number of state-of-the-art facilities nationwide, exploring trauma-informed design principles, and speaking with various Owners and architects about their facilities. Through this process, they gained a better understanding of how to meet the various user needs of a building of this type. In addition, DLA+, using both in-person and virtual workshop formats, facilitated input from the various stakeholders and reached out to those experiencing homelessness themselves to create consensus for a program, operational model, concept design, and ultimately a successful project outcome. The result is an unprecedented public-private collaboration among government agencies, regional healthcare systems, corporate partners, and the Pittsburgh non-profit community.
Interior Rendering - Welcome Center
A Low-Barrier Entry to Reach More People


Second Avenue Commons will be the first shelter of its kind in Pennsylvania, offering 92 beds year-round with space for an additional 33 in the winter. The shelter, operated by Pittsburgh Mercy, aims to serve any adult seeking housing. Recognizing the factors that discourage many from seeking help from programs and shelters, Second Avenue Commons addresses these through a 3-P Approach centered on People, Pets, and Possessions. Pittsburgh Mercy, throughout the process, communicated their desire to create a space that is welcoming to those who generally avoid traditional shelters, including couples, pet owners, those in the LGBTQIA community, and those struggling with mental health or drug/alcohol addictions.
According to a 2014 article published in the Child Psychiatry and Human Development journal, Harmony Rhoades, MS, PhD estimates that as many as 25% of people experiencing homelessness have pets. Pet owners reported fewer symptoms of depression and loneliness, and stated their pets help them feel loved. They also reported that their pets made it more difficult to stay in a shelter or take advantage of housing and job-finding services.
Understanding the importance of keeping pet owners and their animal companions together, the facility incorporates a 24-hour pet wash to help control pests upon entry. The pets will then be quarantined with their owners until their vaccination status can verified and confirmed up to date. The shelter will provide donated items to owners in addition to connecting them to veterinary services. The design also includes durable, pet-friendly furniture and finishes.
Substance use is also one of the largest deterrents for people experiencing homelessness for seeking refuge at shelters. While those actively using drugs and alcohol will not be turned away – nor will they be required to participate in any sobriety programs – substance use is prohibited in the facility and guests must leave the premises before using them. The shelter provides amnesty lockers on entry to store any possessions not allowed inside. Pittsburgh Mercy and Second Avenue Commons take a "housing is healthcare" approach, acknowledging the need for a safe, stable environment before being able to address addiction/substance abuse and guests' mental health.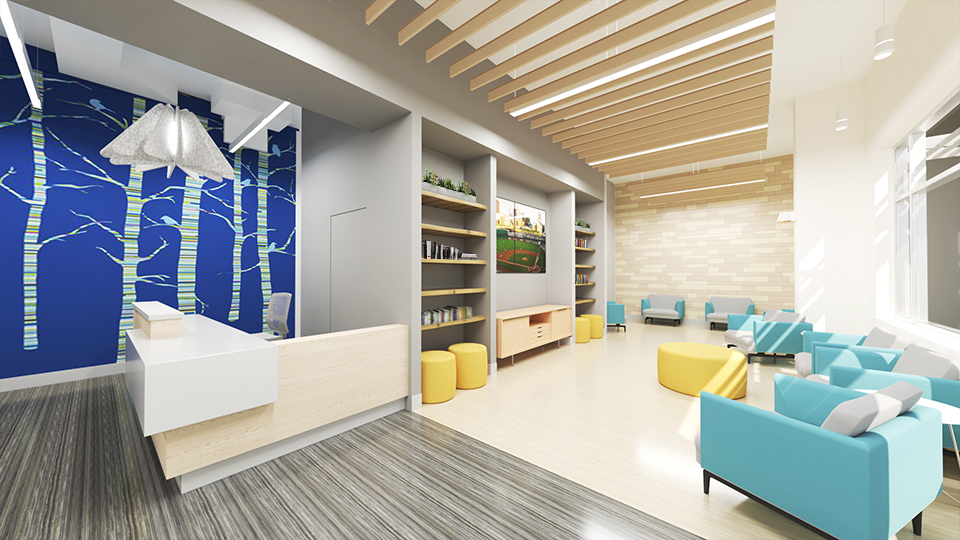 Interior Rendering - Commons
Trauma-Informed Design


The experiences leading up to and the actual event of homelessness are often incredibly traumatic for individuals. As we gain more understanding on how trauma affects behavior, mental and physical health, and cognition, the need for policies and programming to decrease effects of trauma and prevent additional trauma has become clearer. Trauma-informed design has been shown to reduce drug use severity, improve mental health, and increase effectiveness of services in overall engagement, retention, and outcomes.
Thus, the design team incorporated trauma-informed interior design strategies to foster mutual trust among clients/staff through transparency, peer support, collaboration, and to provide a sense of empowerment. The design offers comfort and a sense of safety even before entering the building. "Eyes on the street" and visibility into the shelter help potential guests feel more comfortable as they walk into the Commons. The layout of all the spaces includes clear sightlines with few barriers to create a sense safety and calm. The colors throughout the building are lighter and cool-toned, also adding to the sense of calm. An abundance of natural light through large windows makes rooms appear less crowded, and plants and natural elements help connect guests to the natural environment, which can reduce stress and improve mood.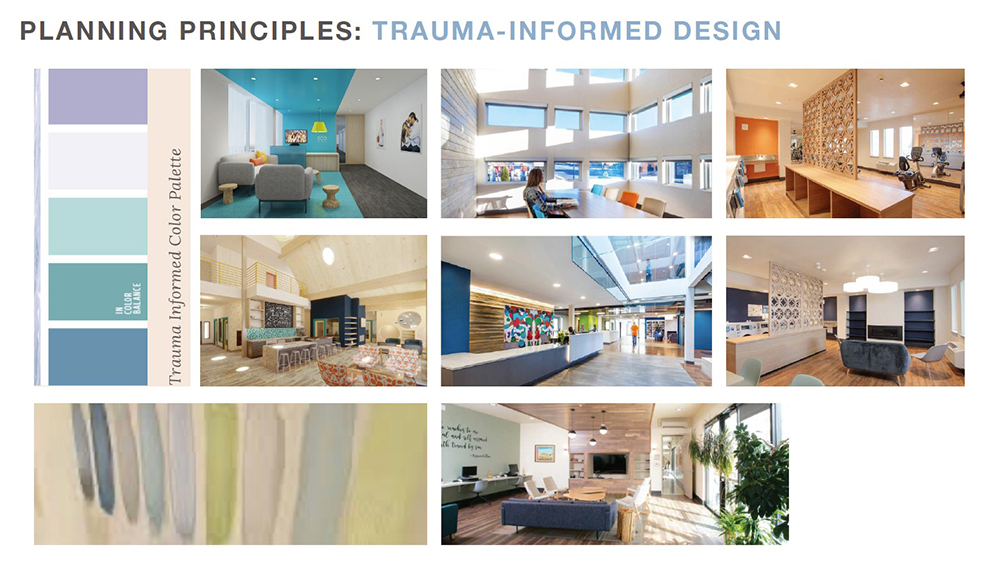 Example Planning Principles and Trauma-Informed Design Considerations
Design Considerations & Amenities


Dignity is at the heart of Second Avenue Commons. The building will be open 24/7, with access in the evening via buzzer. Client services will address the needs of each individual and help navigate them to appropriate resources. An onsite clinic, operated by UPMC, will provide mental and physical health support. A Drop-in Center will offer personal hygiene, laundry, mail, free wi-fi, and client services to individuals experiencing homelessness who are not staying at the facility. A warm handoff room will be available for emergency services to bring-in people who may want to stay at the shelter. Once shelter employees assess the individual, they can determine whether the facilities will be able to offer them the right kind of support or recommend the person to receive a higher level of care at a hospital or psychiatric facility. Community spaces include loungers, a library, computer room, dining, and outdoor space to give clients a greater connection to community while balancing the need for privacy and personal space. Additionally, 42 single-room occupancy housing units will be available, for which occupants will sign leases.
Balancing the clients' needs with the employees' needs for security and privacy was also important in the design. All staff spaces have multiple exits even when not required by code. Sightlines are clear throughout the building, and there are private staff areas that are accessible only through key-entry. A private staff quiet room and support space provides a place for employees to take a break and care for their own mental well-being, as well as serve as a private individual's mother room, if needed. It was important to the team to make sure the staff received adequate support, as they are key to the continued success of the shelter's programs.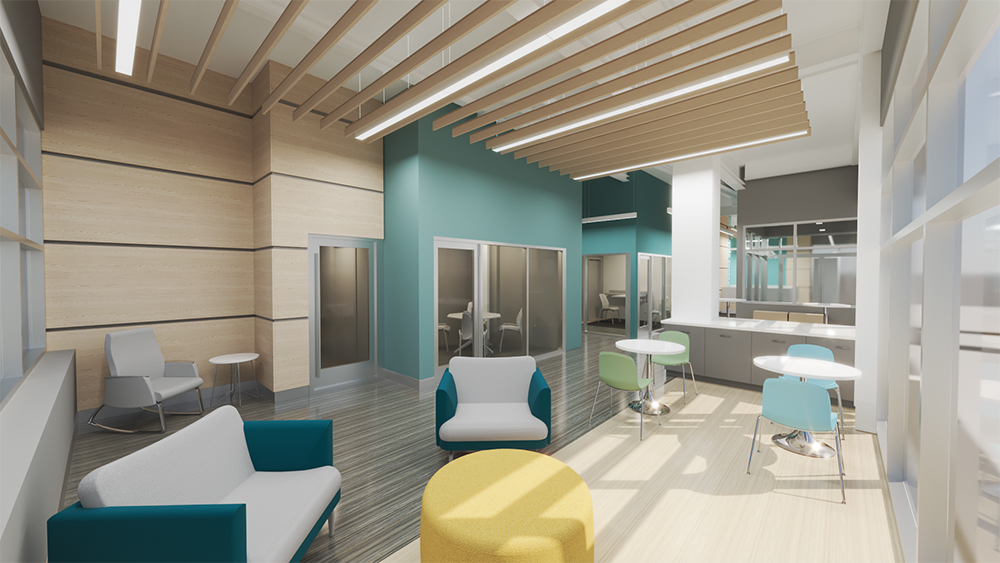 Interior Rendering: Community Space/Lounge
Second Avenue Commons is the culmination of three years of planning, design, and construction and is the epitome of what a public-private partnership should be. Thanks to the support from city and county leadership, Action-Housing, Inc., Allegheny Conference on Community Development, PNC, UPMC, Allegheny Health Network, Highmark Health, Hillman Family Foundation, Pittsburgh Mercy, Operation Safety Net, Urban Redevelopment Authority, and PJ Dick, the $21 million project is a much-needed and long-hoped-for facility to serve the Pittsburgh community for years to come.
Read more surrounding this project in these local news articles:

New 'low-barrier' homeless shelter brings comprehensive services Downtown
New city homeless center — which will accept anyone and their pet— expected to open in October (WESA)
First Look: Second Avenue Commons, a low barrier shelter in downtown, prepares to open (photos)
Allegheny County preparing to open "low-barrier" homeless shelter (publicsource.org)

Business, nonprofit players work together on $21M homeless shelter in Pittsburgh | TribLIVE.com

Read more about this project and watch the video: DLA+ Project Cares (dlaplus.com)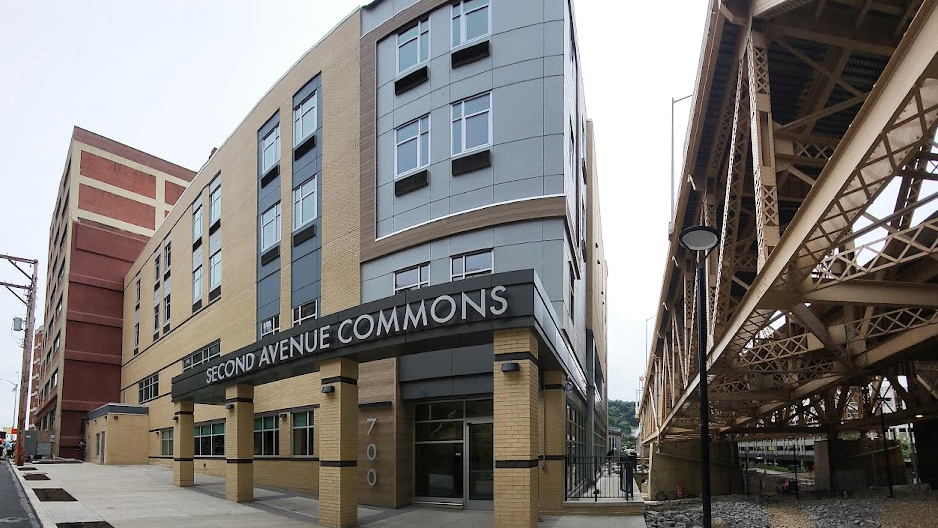 Exterior Construction Progress (September 2022)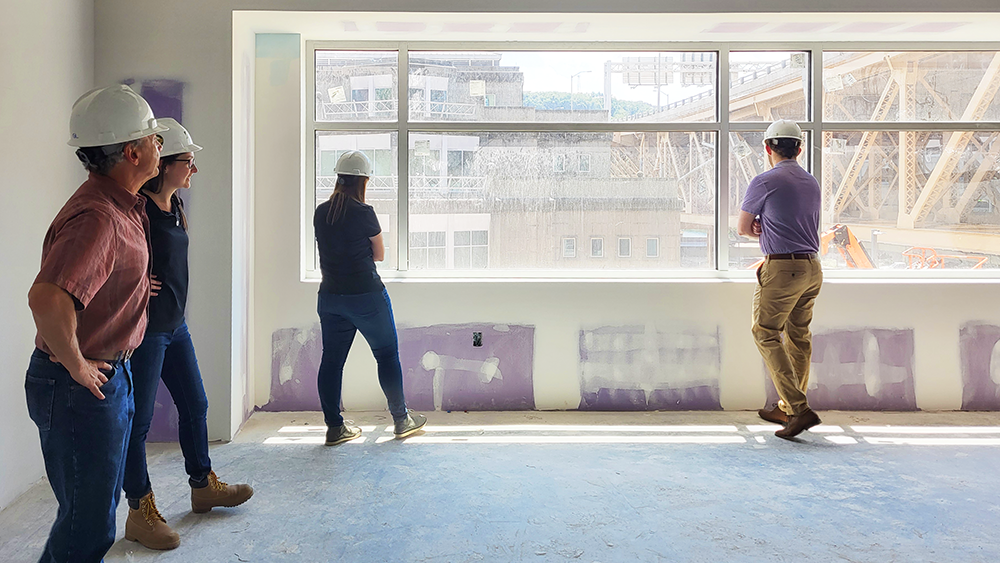 DLA+ Project Tour During Construction (July 2022)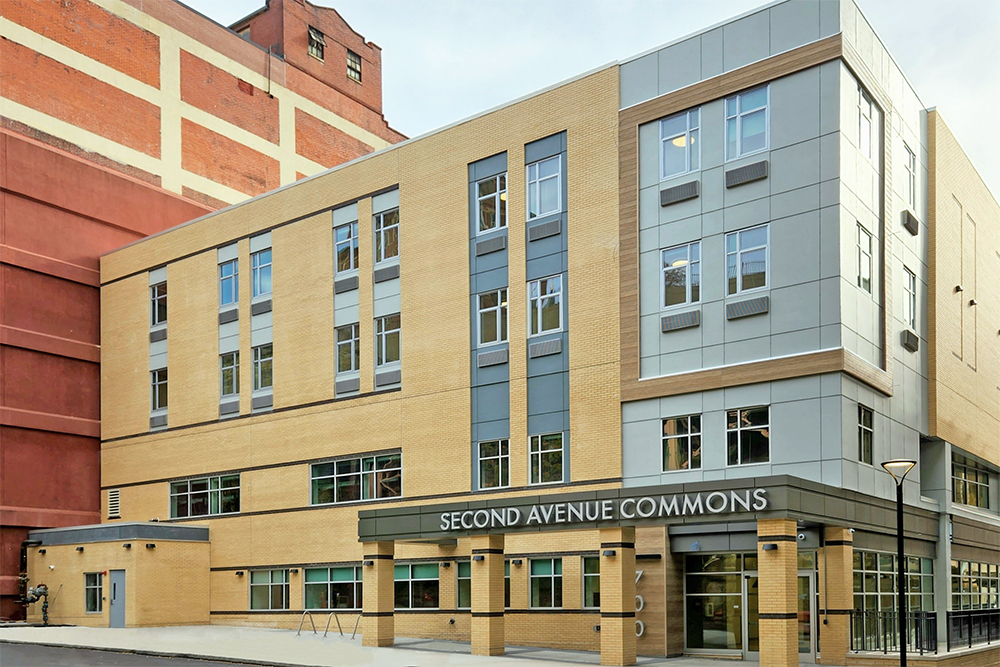 Second Avenue Commons Exterior