​Pittsburgh Architectural Tour: Union Trust Building
+

See All Viewpoints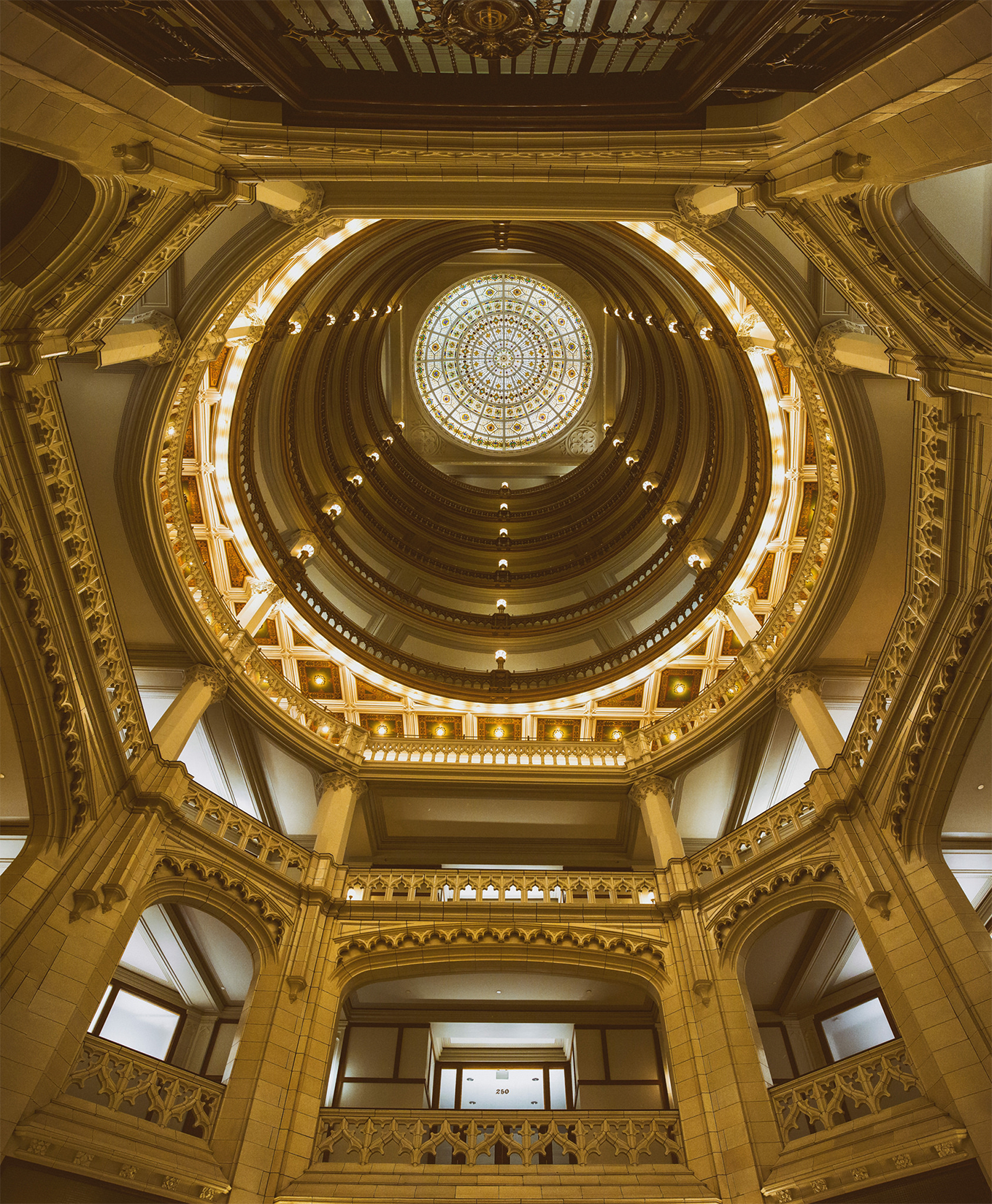 A view of the fabled atrium in the Union Trust building.
Our second stop in our architectural tour of Pittsburgh takes us just across Fifth Avenue from the Frick Building to another one of Mr. Frick's commissions, the Union Trust Building. Originally known as the Union Arcade, this building was constructed between 1915 and 1917. Also located on Grant Street, it too, like the Frick Building, was built on the site of a former church, this one being St. Paul's Catholic Cathedral, which was then relocated to its current location in Oakland.
Designed in a Flemish-Gothic style by local Pittsburgh Architect, Frederick J. Osterling, the building exterior is most notably defined by its ornamental mansard roof with terra-cotta dormers and two distinct mechanical towers at the roof. The interior of the building is designed around a central well, 10-stories tall, that is capped with a stained glass dome. When the building opened in 1917, there was room for 240 shops facing two four-story open arcade spaces, and about 700 offices.
More Interesting Facts:
Added to the National Register of Historic Places on January 21, 1974
While "all of Henry Clay Frick's buildings in the Golden Triangle were first-class, here he was persuaded to building something not only solid but lyrical."
Osterling also remodeled Frick's East End home, "Clayton," two decades prior.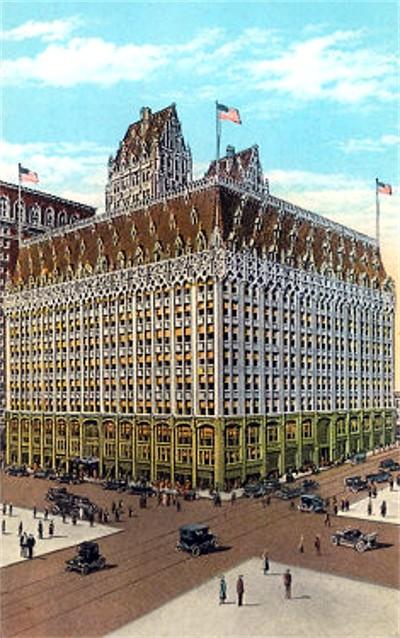 Rendering of Union Trust Building.
Osterling consulted Pierre A. Liesch, a native of Luxembourg, on the general design, who suggested the building substantially as it is.
Osterling originally carried the design scheme to Mr. Frick with the roof eliminated. Frick then consulted with his interior decorator Charles Allom and his art consultant Joseph Duveen who said the building would be even better with a more prominent roof.
An urban legend is that the building's unique roof design is the result of a restrictive covenant placed on the land by its previous Owner, the Diocese of Pittsburgh. One such story suggests that there is a requirement that a place of worship must be maintained perpetually on the site and that one of the mechanical towers on the roof is actually a small chapel. This however is not true as there are no restrictive covenants in the original 1901 deed transferring ownership of the property from religious to commercial use.
The office floors of the building were intended for loads of at least 150 pounds per square foot since tenants were apt to bring in massive safes and locate them as they pleased.
The four street entrances meet have leaded glass windows with colored insert above and all meet at the central well and above each entrance
During a remodel in 1923, the tall arcade spaces and some of the openings into the central well were enclosed.
Semi-glass white terra-cotta walls line the public spaces with bronze fixtures.
The Davis Companies purchased the building in March 2014 and expects to invest $100 million dollars to restore and modernize the building with the goal to reposition the first floor retail space and transform the property into a modern, Class-A, LEED-certified building. Renovation plans include adding a 190 space underground parking garage and fitness center
Learn More:
Davis Companies plans for the Union Trust Building
More facts about the Union Trust Building from Wikipedia
The following book was used for some of the information in this article: Pittsburgh's Landmark Architecture, The Historic Buildings of Pittsburgh and Allegheny County by Walter C. Kidney