Breaking Down the Open Office Floor Plan
The Open Office Debate
+

See All Viewpoints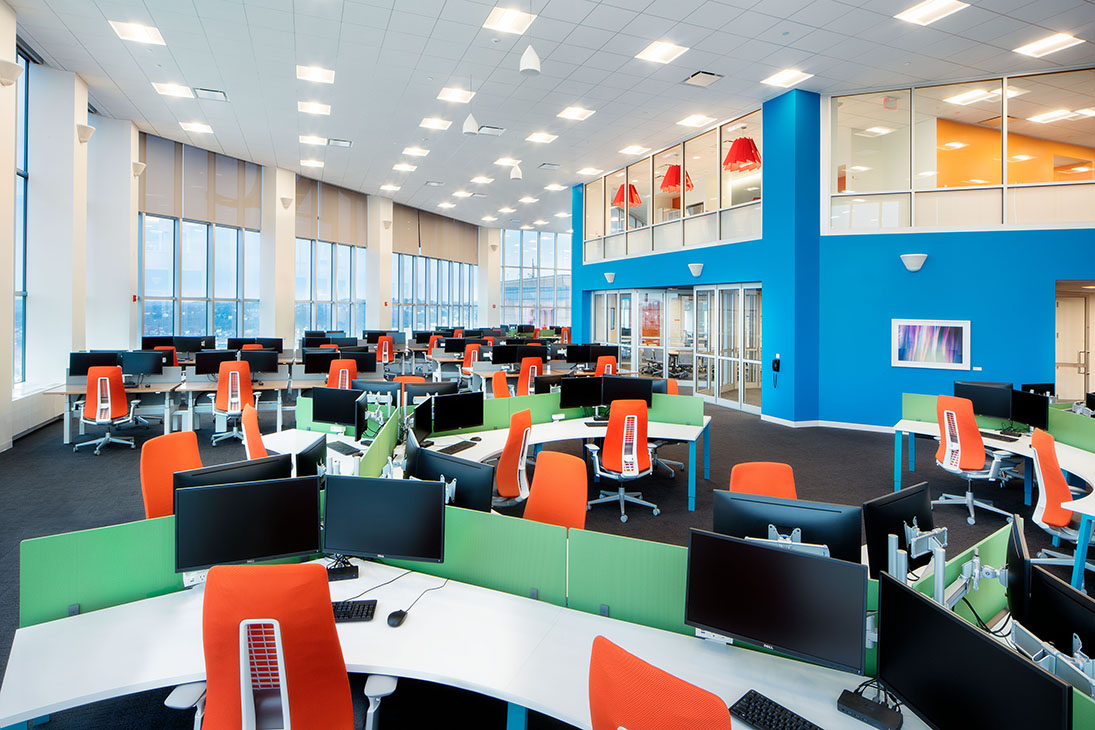 DLA+ Project - Two PNC Plaza for PNC Bank
The open office plan's rise to fame occurred more than a decade ago in early 2000. Although the open office floor plan is still popular, it doesn't come without its critics. According to a Harvard study, instead of fostering collaboration, open office floor plan designs decrease face-to-face interactions between colleagues. However, there isn't a one size fits all approach to fostering collaboration and innovation in a workplace. Gensler's 2016 U.S. Workplace Survey found that an open space can be just as effective as a closed off space if it has a functional design and aligns with the employees' needs. DLA+'s Senior Interior Designer Sarah Koontz says, "If executed correctly, open office design energizes employees with the freedom to choose when/where they want to work throughout the space." There are three key elements that help create a functional workspace for employees in corporate offices.
Flexible Design – The Workplace Survey research found innovators spend less time at their desk and more time in conference rooms, collaboration spaces, cafes, etc. It's important for employees to have a choice when and where they work. Employees enjoy having different options for solo work and group work. Offering a variety of spaces will allow employees to work and collaborate where they feel most comfortable.
Noise Management – There's nothing worse than employees feeling like they have no privacy. As the Harvard study points out, face-to-face communication decreases with an open office floor plan. Employees may feel they are being overheard when having conversations in an open space. Also, spaces that are designed for collaboration should be located away from primary workspaces.
Access to People & Resources – People want to come to work knowing they are armed with the tools and resources they need to be successful. It's important for employees to feel their colleagues are accessible, leading to an increase in collaboration and teamwork. In some cases, a more open space can make it feel like people are more accessible than a siloed office.
There are benefits of both open office plans and closed-off spaces. All companies have different cultures and goals, and all employees have different ways of working. "Not all personalities or work styles are the same, so in open office design, it is imperative to provide support spaces such as call rooms, team huddle rooms and hoteling spaces that require focused work," states Koontz. One thing is for sure – in order to be successful, companies need to invest in their employees and provide spaces where employees feel comfortable and can excel. Well-designed spaces must offer a balance of public and private spaces, ultimately leading to higher productivity and innovation.
For more information on the debate, check out U.S. Workplace Survey 2016 by Gensler, the article The Open Office Isn't Dead by Janet Pogue McLaurin, and the Harvard study The impact of the 'open' workspace on human collaboration.