The Challenges of Old Residence Hall Renovations
Upgrading 50-Year-Old Residence Halls to Meet Today's Requirements
+

See All Viewpoints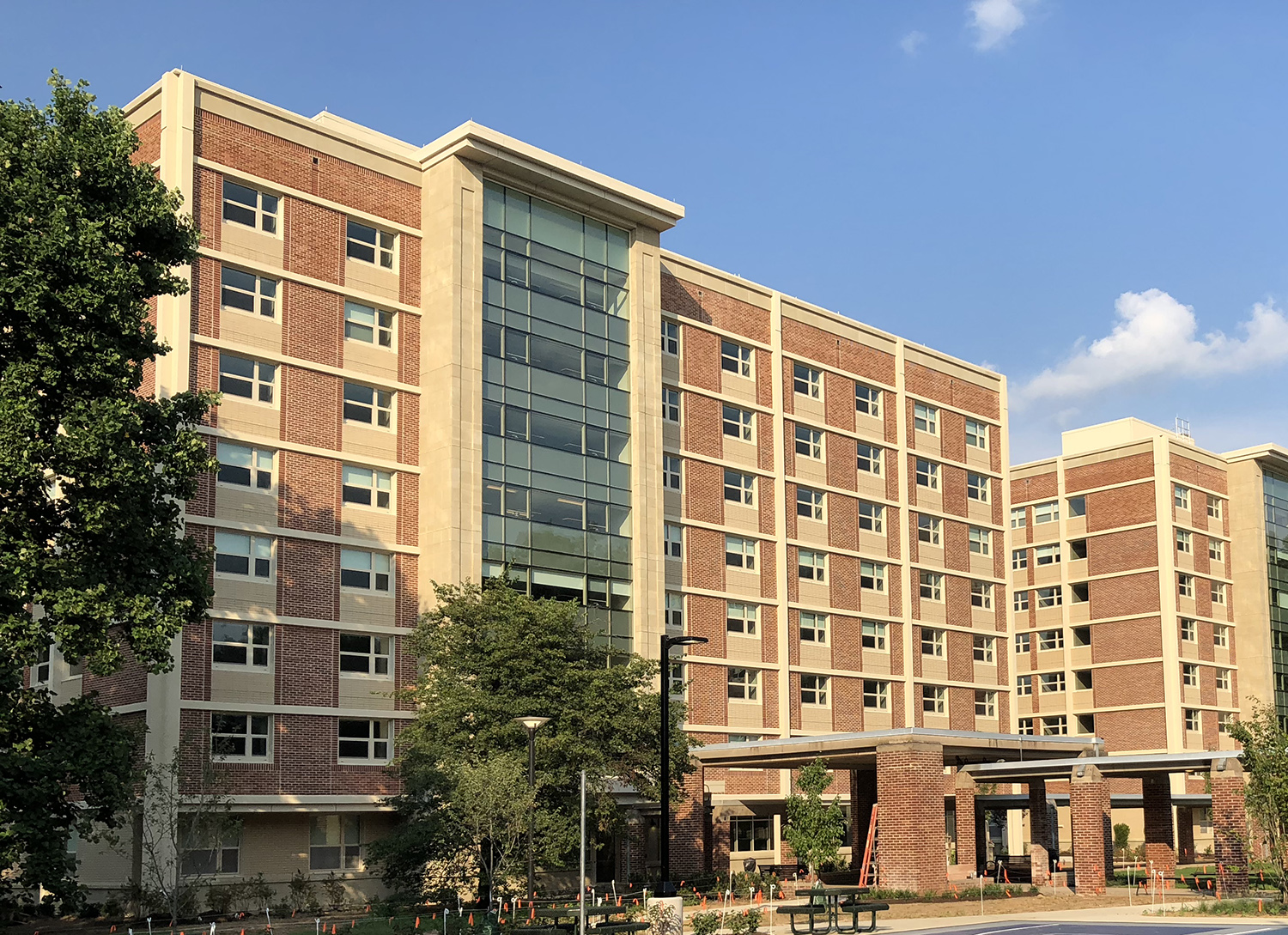 Penn State East Halls
Residence halls built fifty years ago present a unique challenge to Architects attempting to update them to match the comfort and convenience required by today's higher education institutions. While these original structures were mostly well constructed and durable, they reflect a different design philosophy involving earlier building codes, low energy, labor and material costs, and shared spaces.
A recent Sightlines Report indicates that, similar to previous high levels of capital expenditures for colleges and universities which occurred in the 1950s and 1960s, there will be a demand in the near future for increased spending on campus buildings. Existing buildings that may have deferred maintenance costs will need to be addressed. After years of deferred or delayed maintenance, many universities have found it economical to renovate, redesign, and reuse these buildings, using the major structural components but adapting the design to meet the new criteria. At DLA+, we addressed these issues and more as part of our experiences with residence halls at The Pennsylvania State University.
The project's design/build team, led by Contractor/Construction Manager Clayco, with Mackey Mitchell Architects and DLA+, is currently about halfway through a six-year long project renovating multiple residence halls and support buildings in the East Halls complex at the Pennsylvania State University (PSU). The goals are to renovate them to meet current code standards and the expectations of today's students. The building renovations need to be cost effective, energy efficient, sustainable, low maintenance, and able to serve their intended purpose for another fifty years.
The project buildings at PSU were constructed in the sixties, during a major period of investment by many colleges. The residence halls were so-called institutional grade buildings, with exposed concrete structure, face brick infill, and single glazed metal windows which acted as a curtain wall, meaning that they form an exterior closure but are not load bearing. Along with the more durable exterior and interior finishes such as terrazzo and marble, there were some materials that are no longer allowed, such as types of floor tiles, pipe insulation and exterior wall panels. Despite the issues, the buildings had served for fifty years and still had basic components that could be reused with some modernizing and redesign.
While a typical commercial building life expectancy may be 25 to 50 years, an institutional building is designed with an expectancy of a minimum of 50 to 75 years or beyond. An institutional grade building may have a higher initial cost but lower life cycle costs due to this longer useful life expectancy.
The original fifty-year-old buildings were designed to provide a long service life with minimal maintenance and to withstand the rigors of use from many years of college students. Unfortunately, with the today's high cost of labor, and the increasing cost of durable and permanent materials, it can be difficult to duplicate the level of quality, finish, and durability seen in the original construction. One of the many challenges facing the design/build team at PSU was how to achieve the lofty goal of a fifty-year building on restricted budget. So, the design team had to find creative ways to use the available materials that could be cost effectively installed to achieve this goal.
The concrete structure, floor and roof slabs, portions of the exterior masonry and interior concrete masonry unit (CMU) partitions and shafts, stair towers, and recently replaced elevators were to remain, with virtually everything else from the original construction to be demolished. For buildings without a major renovation in over fifty years, they had survived well, but as is often the case with deferred maintenance, PSU determined it was time for a complete makeover. The extensive renovation needed to go beyond an aesthetic surface improvement, to where the function and performance, as well as the appearance, had to match those of new construction.
The renovations included replacing areas of damaged face brick with new matching brick, repointing the existing masonry, and adding an air and moisture barrier at the existing CMU backup wall. But the method of installation was unlike anything we had seen before. To the best of our knowledge, the face brick was installed first, the backside or cavity side of the face brick was parged with mortar and, in some cases, with a bituminous coating, then the CMU backup was installed. This meant the cavity side of CMU was not exposed and tended to have voids, projections and rough areas, and other defects.
Unfortunately, the existing cavity side surface of the CMU back up was mostly too rough to accept a membrane barrier, so a liquid or spray applied type had to be used. In some limited cases, the CMU had to be replaced because of damage or poor condition. The design team also had to stop any moisture or water vapor in the masonry cavity between the face brick and the backup from migrating from the existing masonry to areas with new face brick. This was accomplished by sealing the masonry cavity where the new met the existing masonry with a combination of flexible flashing, metal closures, backer rod, weather barrier, and sealant.
The original masonry buildings had almost no insulation except on the roof, so the design/build team had to come up with a design to make these buildings more energy efficient, as required by current building and energy codes. Additionally, other concerns had to be addressed, such as vapor control, ventilation, and other issues pertaining to air and moisture movement through the building. Where new face brick was installed, new flashing and weep holes were added to allow any trapped moisture to escape.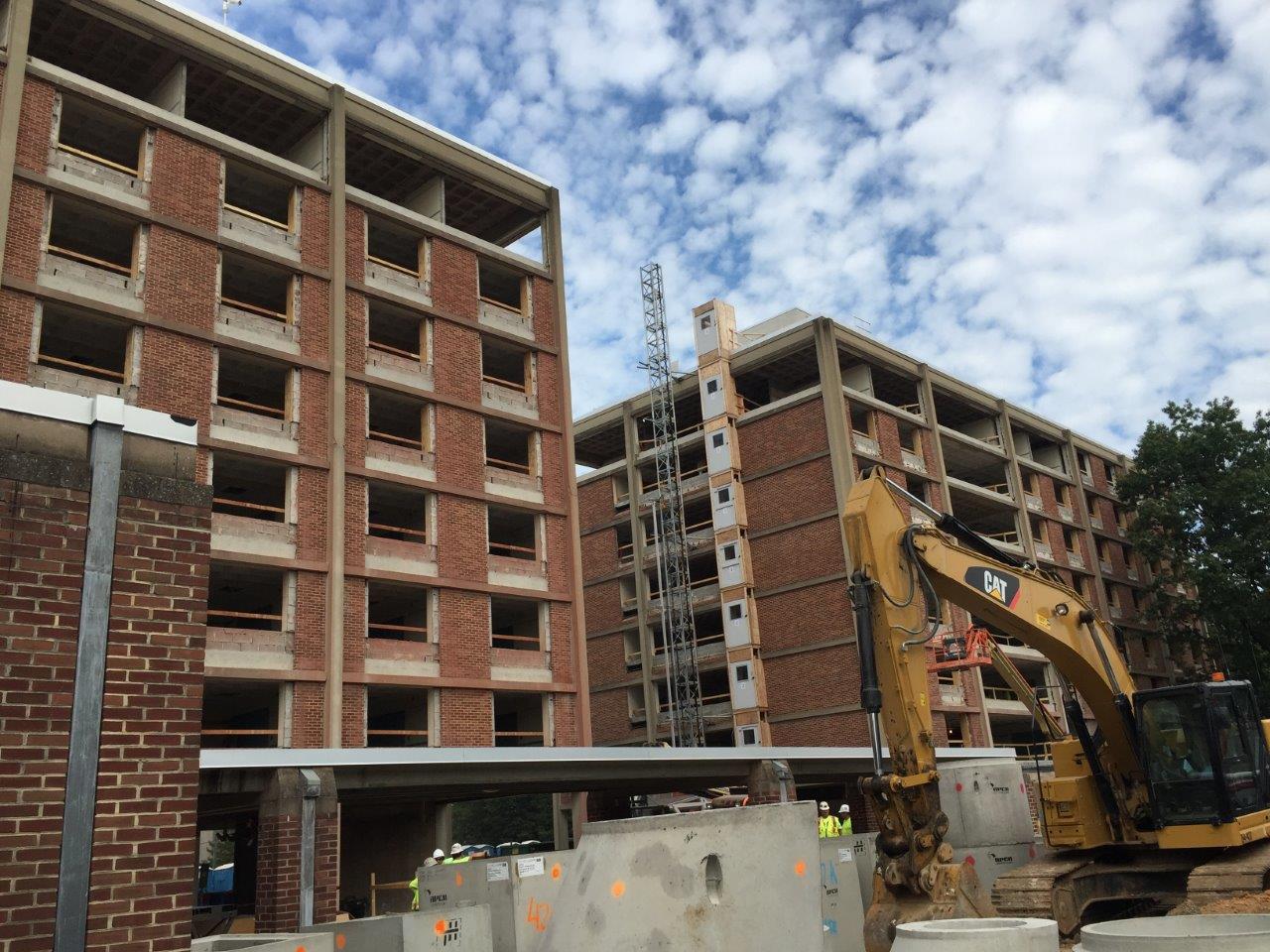 Penn State East Halls Construction
Mineral wool insulation was added to the inside of the perimeter CMU walls, along with a drywall interior finish, to reduce the heating and cooling load on the new HVAC equipment. The old windows were replaced with insulating glass and thermally broken aluminum windows. On the roof, a heavy layer of polyisocyanurate insulation covered by a white thermoplastic polyolefin (TPO) membrane with a 25-year warranty completes the renovated building envelope.
With a concrete framed building, corrosion of lintels and brick relief angles is not as much of a concern, but for buildings with exterior steel structural components, any exposed steel should be cleaned, painted and flashed to extend its life. Control of water is the main requirement for any exterior wall covering and with adequate flashing, weeps, vents, and a weather resistant barrier, the masonry walls should perform well for another fifty years.
Interior upgrades and improvements were also made at this time. Building code changes required adding some fire rated separation walls and other safety considerations, but most of the original interior masonry partitions could be reused. A minimum amount of new masonry and fire rated drywall had to be added to comply with current code requirements for fire safety and acoustics. So, safety and performance could be improved without replacing every existing building component.
The installation of new, durable, low-maintenance exterior aluminum storefront and curtainwall, operable windows, entrance doors and metal panels, along with the restored masonry, completed the exterior upgrades. Part of PSU's requirements included meeting today's sustainability standards, so low maintenance and durability played into the design to help meet both aesthetics and life cycle goals.
The design/build team coordinated on a regular basis to renovate and improve the original fifty-year-old buildings, while also modernizing them, to meet the needs of a budget-conscious public university and a sophisticated student body. With high levels of capital expenditures coming soon, it is important for college campuses to make decisions now about renovating their existing buildings. Renovations are not without challenges, but with strong master plans and an experienced team of design and construction professionals, the process can be successful. The results are renovated, efficient buildings that will last another fifty years.
For more on the East Halls project, visit the project page.