12
​Monongalia County Ballpark named BaseballParks.com's Ballpark of the Year
+

See All News Posts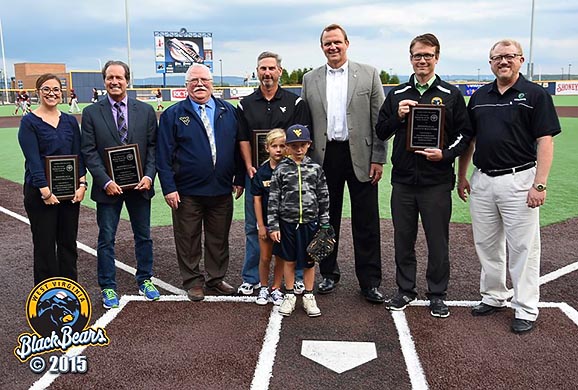 It's not always the biggest or most expensive entry that wins a contest. Such is the case with Monongalia County Ballpark in Granville, West Virginia, the winner of the BaseballParks.com Ballpark of the Year for 2015. Of the finalists, the first-year home of the West Virginia Black Bears cost the least to build.

The honor is given annually to the new or remodeled pro baseball stadium with the best combination of site selection, exterior appearance, architectural design, and fan amenities. Joe Mock of BaseballParks.com will present the plaque symbolizing the award to the Black Bears prior to their home game on August 26.
The announcement of the award was made in the pages of the August 12th edition of USA Today Sports Weekly. Mock, frequent contributor to USA Today publications, wrote the article that announced that West Virginia's park is the winner of this year's honor. Mock is also the president of Grand Slam Enterprises which owns and operates the BaseballParks.com website.
This marks the 16th straight year that BaseballParks.com has presented such an award. Past winners include AT&T Park (San Francisco Giants, 2000), Huntington Park (Columbus Clippers, 2009), Salt River Fields (spring training home of the Diamondbacks and Rockies, 2011) and Regions Field (Birmingham Barons, 2013).
"The winning ballparks have come from all levels," Mock observed. "We've had parks from the Majors, Triple-A, Double-A, even spring training. Not since the Brooklyn Cyclones' park received the award in 2001 has the winner come from Short-Season A ball, but Monongalia County Ballpark certainly deserves this honor."